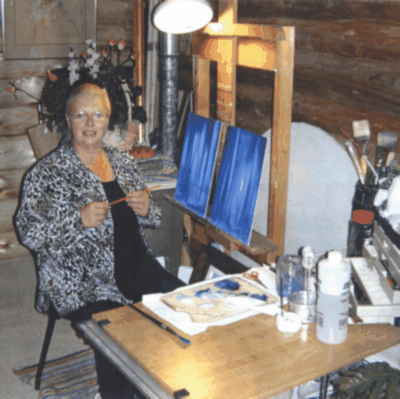 About the Artist
Painting... what a wonderful way of expressing beauty ! The town of Longlac, Ontario, is privileged to have in it's own milieu, such an artist as Suzette Hebert-Downey. Dating back to her childhood days, Suzette and her brush were like a duet : inseparable. Forty years later as a professional artist, Suzette still immortalize the captivating beauty of nature on canvas. Her mission is that of expressing and reflecting the beauty of the breath-taking sceneries of northern Ontario. And she does it well!
Born in Hallebourg, Ontario, a little town 10 km east of Hearst, Suzette lives, paints and display her work in a rustic log house and gallery located at Lydia Lake, 32 km east of Longlac, Ontario on Highway 11, (350 km east of Thunder Bay).
Suzette's Art Gallery was built by Suzette and her husband, Wayne Downey at the end of the seventies. Wayne, who passed away on January 31, 1981, never had the chance to see his dream completed. Suzette, finished the work and proceeded to the grand opening of her gallery in 1982. Suzette's Art Gallery is privately own by Suzette and receive no subsidies from the government . The gallery is opened 7 days a week, year round.
Aside from painting, Suzette teaches art too in her Gallery, in one on one sessions or group sessions. The main log house at Lydia Lake is available for renting to those who would like to spend a couple of days, a week-end or a week or more, learning with Suzette. She teaches acrylics, oil, watercolor and charcoal drawing techniques.
Well known across Northern Ontario for the many exhibitions and shows she helds, Suzette's work is an inspiration of the soul. Lord Simcoe Art Gallery of Toronto and the Craftman Art Gallery of Thunder Bay owns several's of Suzette's paintings. Arts collectors in Europe and the United States also owns some of Suzette's work.
Her paintings vary from touches of abstract and extend to realism whatever it is portraitures or sceneries. Student of masters in watercolor as Zoltan Szabo, Guttorn Otto, Rose Edin, John Leich, just to name these few, Suzette mediums are oil, acrylic, watercolor, india ink, charcoal and air brush.
---
EscapeNorth ©
Revised Nov.-22-10
Mail To:WebMaster